Team No Limitz
would like to take a moment
to thank the following people...
Those who helped us
through the thick and thin
to get where we are today.
---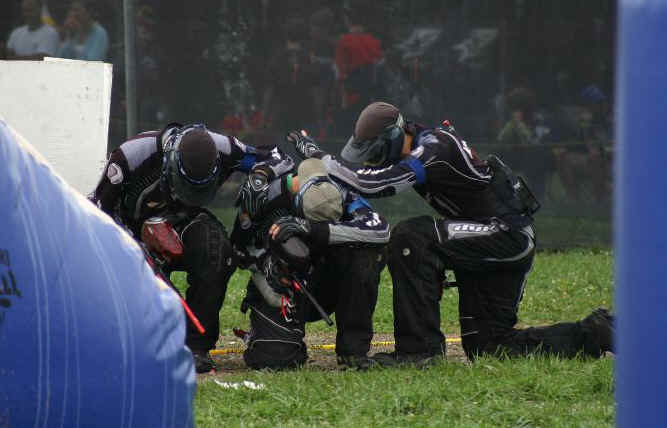 We want to thank GOD.
For all the blessings he has bestowed upon us.
We ask for his guidance and protection every game.
We thank him, above all after every victory.
---
OUR PARENTS! FRIENDS AND FAMILY!
Without you guys we are nothing! Thanks for all you have done and will do for this team. You guys rock!
---
NO LIMITZ PAINTBALL STORE!
Located in Downtown Sunbury Ohio
CLICK HERE FOR DETAILS ON THE STORE!
---
Kore Ohio
Kore paid the entry fee to World Cup 2007
---
Splatter Park Paintball Field
---
Bruce Heffelfinger,
without you this team could not be where it is today
The No Limitz Memorial Page to Bruce is HERE
---
Past Donators:
UFCW Local 1059
Paid our entry to the Great Lakes Paintball 2002 Series, and the Ultimate Madness! Thanks!
SUBWAY (Sunbury, Ohio)
Donated door prizes to be raffled off
IBEW Local 683
Donated to our 2001 and 2002 Seasons!
Jeffrey Gillig
My Dentist donated to our 2002 season!
John W. Heffelfinger
Helped us go to IAO 2002
---
We also would like to thank all of the following people who have cheered us on, bought our No Limitz gear, helped get us fired up, and PARTIED with us when we won!
If I forgot anyone, let me know!
Pete@NoLimitzPaintball.com
Team Op-For, Team Misfits, Team Intense, Team Shabang, Team TOH, Team Hostile, Sarges Roughnecks (we all need a good rivalry), Good Bad and Ugly, Brimstone Smoke (well get ya next time), The Sharks, Team Nightfall, Lostboyz, Damage INC, Affliction, Kathleen, Lee, Renee, Angel, Marie, Jamie, Brandon, Jason, Eric and Shelly, Deric, Tiffani, Grandma!, Jen, Heather, Djovana, Adam, Jessica, JW, Colin, Matt, Angie, Ryan, Jen F, Clyde, Alicia, Nikki, Tammy, Barb, Olga, Jared L., Chris, Doug, Danielle, Doug K, Betsy, Mike, Aaron, Shawn, Luke, Pat, Scott, Steve, all of our past teammates, SWAT, and everyone else I forgot, YOU GUYS ROCK!